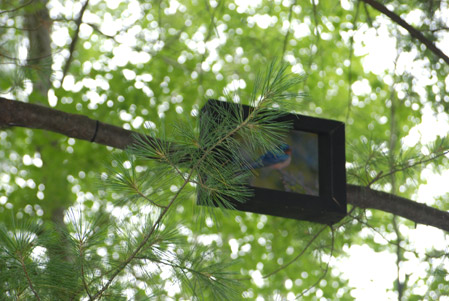 Twitchers and Cheaters
Five monitors with looped video footage, 2008
Twitchers and Cheaters was a multi-channel outdoor video project installed into tree branches at the Fields Sculpture Park at Art Omi in rural upstate New York. Avid birdwatchers (a "twitcher" is a British slang term for a birdwatcher) frequently keep a "life list" of the birds that they have personally observed. This list is the source of great pride for many birdwatchers, since they will often travel long distances to be able to observe new birds. Ultimately, however, every birdwatcher's "life list" relies on a kind of honor system since there is no easy way to quantify or prove bird sightings, which often happen in a fleeting manner and in very remote places while the birder is alone.
On five small monitors in the trees, viewers saw life-size images of birds appear and disappear rapidly and intermittently from monitor to monitor. Any bird in the northeast that could conceivably land in a tree at the Fields was been included in the footage, and also many others that would be much rarer and harder to spot. The images flitted from screen to screen, and as such prompted a viewing experience that resembled the quick and "twitchy" experience of bird watching itself. By watching the video screens in the woods, a viewer could effectively assemble a "cheater's life list" of all the birds of the northeast in the space of only few minutes.
Twitchers and Cheaters pokes fun at our longstanding human tendency to collect and categorize, as well as the competitive strain that we bring even to pastoral activities even as as bird watching. It also takes our thirst for time-saving strategies to such an extreme that it turns an activity such as bird watching, which by definition requires patience and keen observation, into something comically oversimplified and absurdly efficient.
Scroll down for details.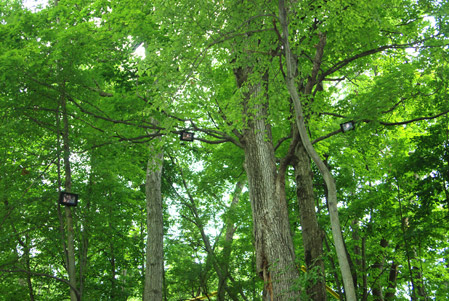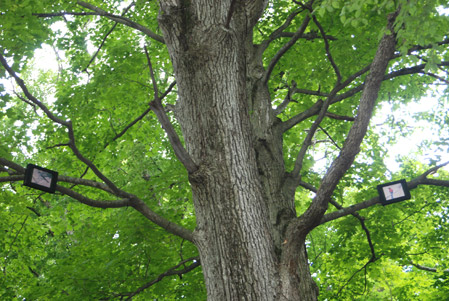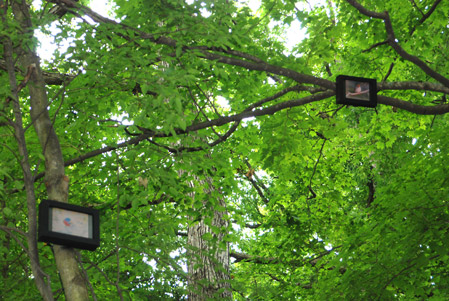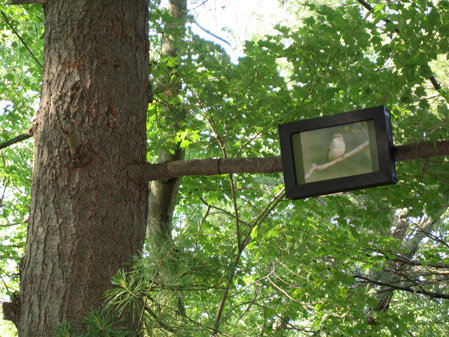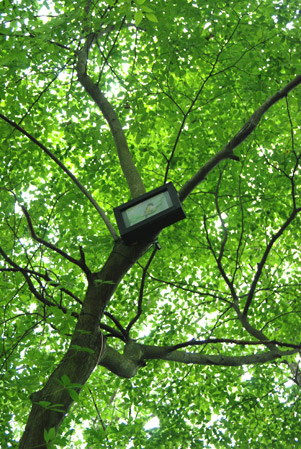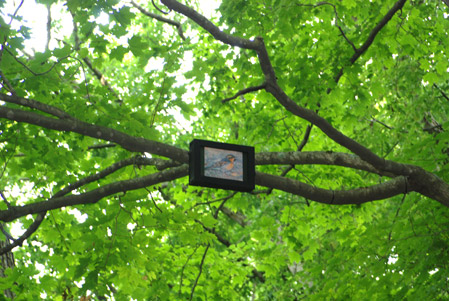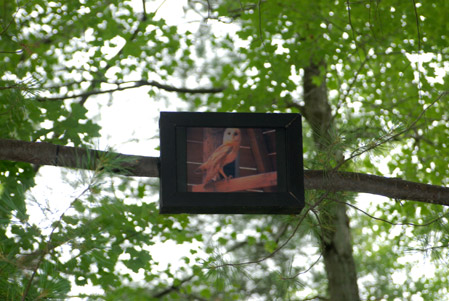 Next project in Confusing animals | Next project in Video
|
Next project in Public Projects