"Ification" at Fridman Gallery, 169 Bowery, New York
February 24-March 31, 2019. Artist's talk on March 2, 5 pm. On-Hold Music Dance Party on March 7th, 9:30-11 pm.

"Nina Katchadourian: Curiouser," touring exhibition 2017-2018
A solo museum survey entitled "Curiouser," curated by Veronica Roberts, opened at the Blanton Museum of Art, Austin, TX and was on view there from March 12-June 11, 2017. The exhibition traveled to the Cantor Center at Stanford University in Stanford, CA (September 15, 2017-January 7, 2018) and to the Museum of Art at Brigham Young University in Provo, UT (March 3-August 11, 2018).

Curiouser, monographic publication from Tower Books
An accompanying monograph, curiously also entitled "Curiouser," was published by Tower Books and it is available at https://utpress.utexas.edu/books/blanton-museum-of-art-nina-katchadourian.





Sorted Books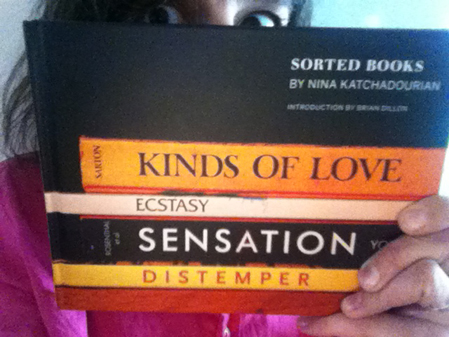 Available from Chronicle Books! "Sorted Books" documents the past 20 years of the Sorted Books project, and features an essay by Brian Dillon, essay by Nina Katchadourian, and many color illustrations.
Order the Sorted Books publication from Chronicle Books