"Nina Katchadourian: Curiouser" at the Blanton Museum of Art, Austin, TX
Solo museum survey, Blanton Museum of Art, Austin, TX. Curated by Veronica Roberts, the exhibition is open March 12, 2017 - June 11, 2017 with the public opening on March 24, 2017 when the museum is open from 11 am to 11 pm. There will be a conversation between curator Veronica Roberts and Nina Katchadourian at 4 pm that day. The exhibition will then travel to the Cantor Center at Stanford University in Septemeber 2017, and to the ICA at VCU in Richmond, VA in April 2018. An accompanying monograph, entitled "Curiouser," is available at https://utpress.utexas.edu/books/blanton-museum-of-art-nina-katchadourian. For more information about the exhibition, visit http://blantonmuseum.org/2000/06/nina-katchadourian-curiouser/

"Dust Gathering," MoMA, New York
"Dust Gathering," an audio tour by Nina Katchadourian as part of the museum's initiative entitled "Artists Experiment." October 21, 2016 - April 21, 2017. www.moma.org/calendar/exhibitions/3610

"Explode Every Day: An Inquiry Into the Phenomenon of Wonder," MASS MoCA, North Adams, MA
"The Recarcassing Ceremony" (2016), a 25-minute film, is included in this exhibition on view through March 19, 2017. www.massmoca.org/event/explode-every-day-an-inquiry-into-the-phenomena-of-wonder/

"Floater Theater," The Exploratorium, San Francisco
Artist-in-residence, Center for Art and Inquiry: "Floater Theater," a new exhibit commission, opens October 1, 2016 and is on view permanently. www.exploratorium.edu/arts/artists/nina-katchadourian

"Talking Pictures" at The Metropolitan Museum of Art, New York
Group exhibition, "Talking Pictures: Camera-Phone Conversations between Artists," June 26, 2017 - January 16, 2018.





Sorted Books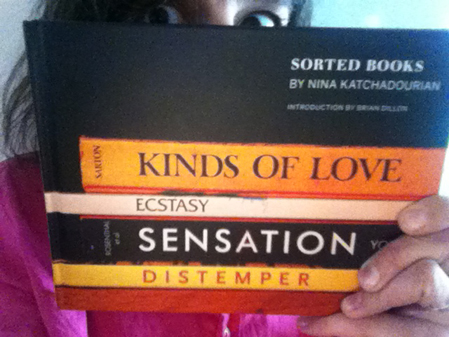 Available from Chronicle Books! "Sorted Books" documents the past 20 years of the Sorted Books project, and features an essay by Brian Dillon, essay by Nina Katchadourian, and many color illustrations.
Order the Sorted Books publication from Chronicle Books