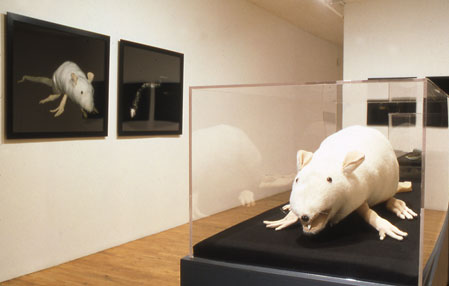 Animal Crossdressing
Two framed c-prints, each 32.5 x 40 inches, vitrines with animal costumes, dimensions variable, and single-channel video, 3 minutes, 2002
The Animal Crossdressing project grew out of a 5-week residency in summer 2001 at Caribbean Contemporary Arts (CCA) on the island of Trinidad. While visiting the Emperor Valley Zoo in Port of Spain one day, I met the zoo keeper who was in charge of the snakes. I watched him feed and care for the snakes over several weeks, and over time saw many mice, rats, guinea pigs and even rabbits swallowed whole. I never got entirely used to watching the feedings, and couldn't squelch my sentimental response to devise a scheme for some ways the prey animal could escape its fate. Port of Spain abounds with fabric stores, stocked with everything from staid grey cottons used for school uniforms to outrageous shimmery synthetics used to make costumes for Trinidad's famous Carnival. Given this strong cultural tradition of masquerade, I decided to make an outfit for a rat that would disguise it as a snake. I found a stretchy nylon snakeskin print that was perfect for the task at hand, and also fashioned a costume that crossdressed the snake by using its body as the tail of an enormous, three foot-long stuffed rat. The project was restaged in New York in 2002 with pet animals and documented in a more controlled studio environment using photography and video. It wasn't until I saw the video footage that I realized how many transformations had come into play: the snake's body, lying inside the unzipped rat suit, looked like the intestines of a giant rat. The predatory snake was suddenly both the prey and the guts ingesting the prey, all visible inside a huge gutted rodent that looked like it had just turned the tables on a snake and swallowed it whole.
I handled the animals together with the pet's owners, and although the video emphasizes the awkwardness of dressing the animals, rest assured that neither snake nor rat were harmed during the making of this project.
Scroll down for image details.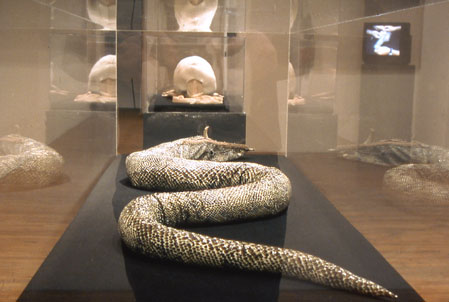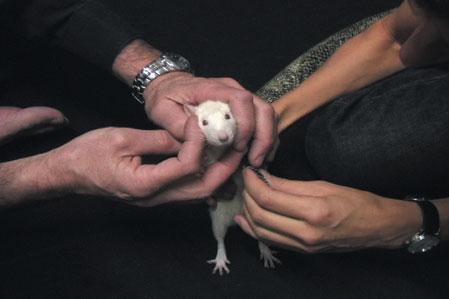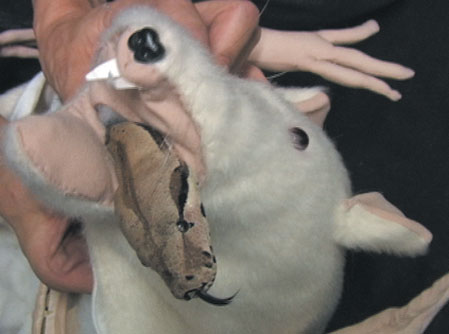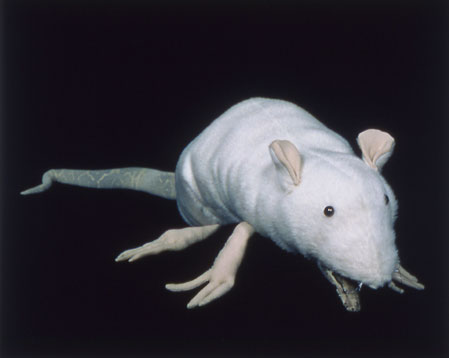 Crossdressed Snake
C-print, 32.5 x 40 inches, 2002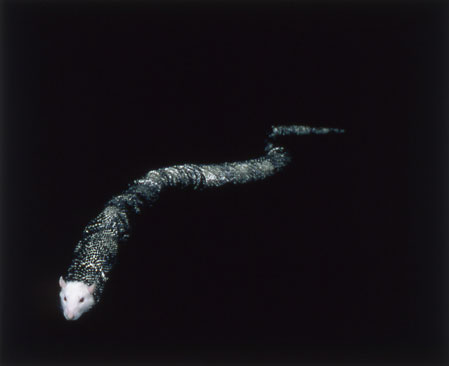 Crossdressed Rat
C-print, 32.5 x 40 inches, 2002
Next project in Confusing animals | Next project in Sculpture/mixed media